Yes!! It's finally time to start assembling my brand new ShapeOko 2. 🙂
Getting started
First of all I read all the way through the assembly on this page. It's quite clear and informative so I guess that assembly will go smoothly. I started by counting everything in the box just to see that everything on the bill of materials was sent from Inventables – it was!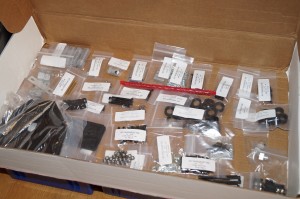 Software and testing the electronics
I installed the Universal G-code Sender as described. Then I unpacked the Arduino, the g-Shield, power supply and stepper motors and assembled the electronics on my desk to give it a test run as suggested. The instruction are clear and everything worked out of the box.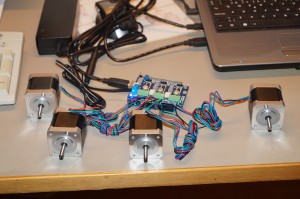 Assembling the wheels
Then it was time to start working on the mechanics by assembling the V-wheels and the smooth idlers – a lot of ball bearings and washers – but just work to be done.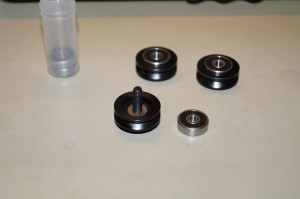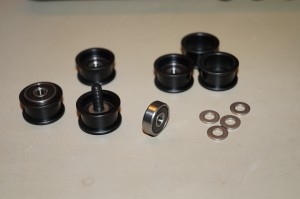 Assembling carriage
Then it was time for the motor mount carriages – three in total: two for the Y-axis and one for the X-axis.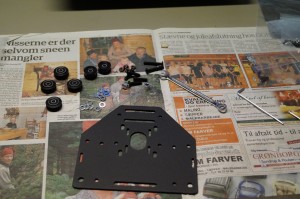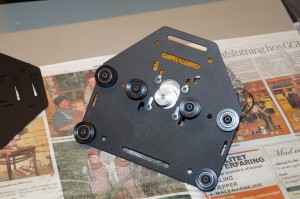 Z-axis assembly
The Z-axis assembly is much more complicated than both the X-axis and Y-axis assembly. It is comprised of several sub-assemblies: the Z assembly carriage, the spindle carriage, the Z-axis rail and finally the X-axis carriage. All these are bolted together in one sub gantry.
In the photo I've assembled the Z assembly carriage and the spindle carriage and all the remaining parts (except the X-axis motor mount carriage) are lined up for assembly.
This is as far as I got today. Now I need to be tapping the MakerSlide to make further progress – a process I've never done before so I'll have to work slowly, carefully and patiently.