Roll top bread box
I decided to design and make a bread box for our kitchen – with a roll top lid. Most of all just to try to make such a lid and to see if I could make it work.
I made it from 18mm pine and here is the result: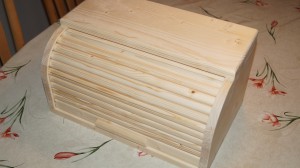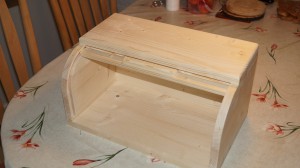 The drawing of all the pieces and the dxf-files for the larger pieces can be downloaded from my woodworking plans page. I apologize in advance for my poor drawing skills but I hope you'll find it useful anyway. 🙂
All the big pieces were milled on my ShapeOko 2 using the dxf-files included above. The small pieces for the roll top were all created from a 18mm piece of pine. First I rounded both the upper and lower edge on one side of the wood using a router table. Then I cut the rounded strip off the rest of the wood (about 15mm wide) and used my plain to plain them down to 10mm thickness. Then repeat the process to make the next piece.
I tried to illustrate the process below:

The groove in both ends needs to be as smooth as possible to make the roll top lid work nice and smoothly. I ended up gluing two strips of plastic onto the sides of the groove which works just fine.