My first real Arduino project
Let me introduce my latest project: An Arduino driven box joint jig for my table saw! I saw a video on YouTube where some guy showed a box joint jig driven by a stepper motor and I decided to make one myself.
I already build a hand driven box joint jig very much like this one made by Matthias Wandel (it works fine by the way), so I started to build the electronics using an Arduino One, a 16×2 LCD screen, a Pololu A4988 stepper motor driver shield, a rotary encoder (with a micro switch included), a 18.5 V power supply, a Nema 8 stepper motor (SY20STH30-0604A) and some smaller parts (resistors, an LED, a LM7805 regulator and a capacitor). The whole thing looks like this: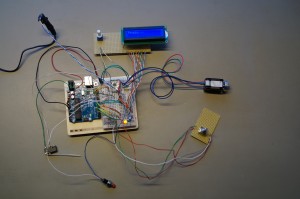 Here is the schematics for it (without the LM7805 regulator and the capacitor):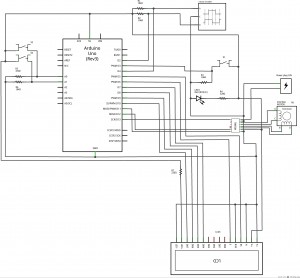 The rotary encoder is used for controlling the menu (the switch labeled S1 on the schematics is actually built in the rotary encoder). The switches S2 and S3 are used for resetting the jig and for moving the stepper motor forward.
Here's the sketch (it may be subject to change or include bugs): BoxJoin